Doctors & Staff
Meet the experienced and friendly doctors and staff who make Leominster Family Eyecare the leading provider of vision care products and services in Leominster.
---
Dr. John T. Mooney, Jr., OD
Dr. Mooney completed his undergraduate degree from Cornell University in 1981. He then graduated from The New England College of Optometry in 1985. Following his service as a US Army captain for four years, Dr. Mooney and his family settled in North Central Mass and purchased this practice. He is a past president of the Leominster Rotary Club and was twice the Rotarian of the Year. He served three years as the chairperson of the North Central Massachusetts Chapter of the American Red Cross. He is a member of the Leominster Lion's Club and was awarded the Melvyn Jones award in 2009 for his contributions to the Lions. Dr. Mooney was the president of the Massachusetts Society of Optometrists from 2000-2001, and the optometrist of the year in the state of Massachusetts for 1999-2000. Dr. Mooney is recognized as a children's vision specialist and receives many referrals from educators in the region. He enjoys seeing patients of every age. He has extensive experience in contact lens fitting and the treatment and management of external eye disease. He also advises patients in the field of refractive surgery and comanages many LASIK procedures.
---
Dr. Kevin Quang, OD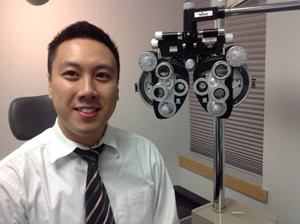 Dr. Quang completed his undergraduate studies at UMass Amherst in 2006. He then obtained his doctorate from The New England College of Optometry in 2010. After graduating, Dr. Quang went on to complete a residency in ocular disease and primary care at the Providence VA Medical Center. During this year, he was able to obtain more experience in the treatment and management of glaucoma, macular degeneration and cataracts.
Before joining Leominster Family Eyecare, Dr. Quang provided routine and medical eye care to patients of all ages at a busy ophthalmology practice in Worcester, MA. At this practice, he was able to gain experience in cataract post-operative care and corneal disease.
Dr. Quang was raised in Worcester, MA where he was valedictorian of his high school graduating class. When he is not in clinic, he enjoys playing basketball and spending time with his wife and two young children.
---
Dr. Deborah Bettencourt, OD (Retired)
Dr. Bettencourt completed her undergraduate degree from Wheaton College in 1981. She then attended The New England College of Optometry in Boston and graduated in 1985. She is a member of the Massachusetts Society of Optometry and she has been the district chair person for the organization for the past ten years. She has practiced in Worcester, West Boylston, and Leominster. She enjoys seeing patients of all ages. She specializes in difficult to fit contact lens cases, but enjoys fitting contact lenses in general, especially those going into contacts for the first time.
---
Kathy Violette – Office Manager
Kathy has been with our practice for 25 years. She is a graduate of Montachusett Vocational Technical School. As office manager, she oversees the day to day operations of the office and staff. She is our go to person for any and all third party insurance issues. She is available to answer any billing questions you may have. She is well versed on most of the contact lens types available at our office, and has taught many of our patients how to insert and remove their contact lenses. She enjoys assisting patients with frame selection in our optical and can also be found performing visual fields and taking retinal photos.
---
Julieann Sweet – Optical
Julieann joined our team in early 2013. She very much enjoys working with each patient individually to choose stylish frames or assist in the proper lens selection for your vision needs. She has been a wonderful addition to our optical staff. She says that what she loves most is watching patients leave the office with a smile on their face after picking up their new glasses. "They love the way they look and they love the way they see. It is very gratifying."
---
Yvonne Long – Licensed Optician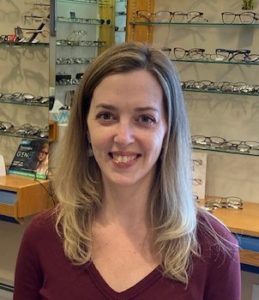 Yvonne joined us in 2020, new to our practice but not new to optical. Yvonne received her associates degree in Ophthalmic Dispensing in 1997, in her original home town of Buffalo, NY. She brings with her over 25 years of optical experience, thoughtful customer service, and dynamic personality. She has been serving the Leominster community for 16+ years.
Yvonne enjoys the technical aspects of opticianry, helping our patients navigate the frame and lens options to best suit their needs for clear and comfortable vision, and the cosmetic aspect of finding the perfect frames!
Yvonne lives in Lunenburg with her husband and 2 girls. When she is not in the office she enjoys time with her family; hiking, biking, kayaking, baking, playing cards, or simply watching a movie. Go Bills!
---
Donna Egan – Front Desk Receptionist
Donna is a new member to our team in 2017. She originally moved from Cambridge to Central Mass. to attend Fitchburg State College and earn her bachelor's degree. She enjoys the busy pace of the front desk. Donna has 14 years of experience in the optical field, so she can offer information ranging from from your insurance coverage to your eyeglass options.
She enjoys working with the public and keeps a light mood in the office with her infectious sense of humor. She is a lady who prefers the winter months and getting on skis or a snowmobile as many days as possible.
---
Jacqueline Osolin – Front Desk Receptionist
Jackie joined our team in February 2017. She brings with her 25 plus years of customer service and five years of experience as a Front Desk Receptionist in an optometry practice in Gardner.
Jackie enjoys greeting our patients with a respectful hello and is here to help with all your scheduling needs. She will also assist in contact lens ordering or in navigating through your insurance coverage options.
Jackie grew up in Westminster and raised her family in Ashburnham where she and her husband Steve currently live. She is a graduate of MWCC. On her days off, you might find her taking on a project of furniture restoration, taking care of her flock of chickens, kayaking, or just spending time with her family.